Investing in a new growth path in China
08 February 2021 (5 min read)
---
China's relatively quick rebound from the pandemic has seen it close its gap with the US as Beijing vies to overtake the world's largest economy as soon as it can. And appeal for domestic stocks among investors at home and abroad is growing in tandem.
While overall GDP in the US dropped in 2020, China's grew by 2.3%1 . Not only was it among an exclusive number of countries to avoid a contraction for the year overall; latest figures from the National Bureau of Statistics show GDP is back on its growth trajectory, up 6.5% in the final quarter2 . Further, almost two-thirds of China's provinces experienced faster economic expansion in 2020 than the country achieved as a whole3 . For 2021, meanwhile, even a revised IMF forecast has tipped China's economy to grow by 7.9%4 .
China has its resilient export sector to thank for its 2020's performance. Yet growth at home has become the new focus, as government policy forges ahead with the transformation of the domestic economy.
In particular, the new 'dual circulation' strategy, introduced last year, aims to encourage local consumption by spurring homegrown demand through job creation, improved social security and create an ever-larger middle class5 . (Exhibit 1)
China's 14th Five Year Plan, released towards the end of 2020, will fuel this via its four main objectives6 :
Achieve self-reliance on core technology and critical supply chains – this goal requires China to invest in research & development to spur organic innovation and move up the production chain.
Pursue sustainable and high-quality growth – this relies on continued urbanisation and China fostering the consumption growth of its middle class.
Combat climate change and clean up the environment – this is underlined by goals to achieve peak carbon emissions by 2030 and carbon neutrality before 2060.
Continue to liberalise the economy and financial markets – this includes, for example, increasing theaccessibility of onshore markets by foreign investors, internationalising the Reminbi, and joining various high-level trade and investment agreements with foreign partners.
Exhibit 1:
Image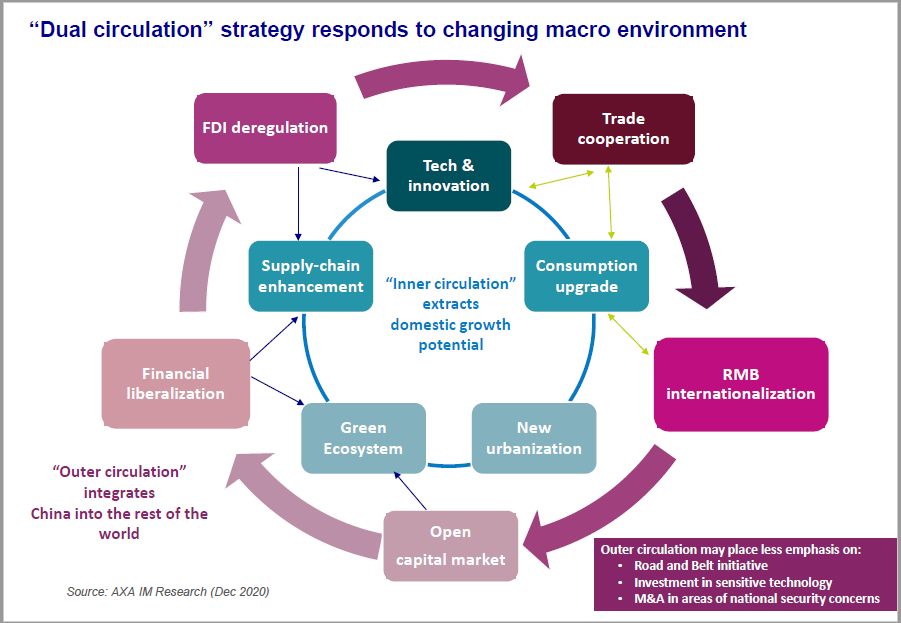 Investing in China's transition
Externally, a Joe Biden presidency will likely bring more predictability to foreign policies that should help restore some level of calm in US-China relations. Yet competition in core technologies and financial dominance is expected to continue, as will geopolitical frictions in the region.
Regardless, given Beijing's bold ambition, it wants to steer a new route by ensuring it keeps economic progress on a path to normalisation in a relatively cautious way. In the near term, this means that macro policy will maintain continuity, stability and sustainability, avoiding sudden changes in policy stance that create unnecessary economic volatility.Over time, China's structural development may lean towards further services sector reform, more regional economic development zones and stricter enforcement of rules for internet-based firms to ensure fair competition. There will also be efforts to plug any gaps in the supply chain to reinforce technology self-sufficiency7 .
Policy measures have already yielded results in terms of domestic appetite for Chinese stocks in 2021. In January, for example, a Chinese mutual fund attracted the equivalent of around US$37 billion in investor subscriptions on the first day of sales8 . This highlights the potential for the country's mutual fund industry, which fully opened to foreign investors in 2020.
Looking by sector, the 'new economy' led by e-commerce has been the biggest beneficiary, riding the country's recovery from COVID-19.
However, investors will need to navigate the rise in regulatory risk in some of these companies, including in the fintech space, with alleged monopoly-type behaviour by some of the leading internet players attracting closer scrutiny from authorities.
Elsewhere, greater demand is expected for healthcare. Policy that is driving renewable energy solutions is also generating new investment opportunities.
Foreign interest in Chinese stocks is growing, too. It is notable that Hong Kong bolstered its role during 2020 as an important financial centre for China following several big secondary listings on the HKEX. Amid regulatory uncertainty for Chinese companies in the US, the trend in the bourse's appeal as a listing destination is expected to gather pace.
A more meaningful role in global portfolios
As this exposure and confidence boosts allocations to Chinese equities, there is the potential for a revision in the current structural underweight of around 5% in the MSCI All Country World Index – based on the size of China's GDP and its growth rate.
From MSCI's perspective, as part of its China A-share inclusion journey over the past two years, the index provider said further weight increases would depend on additional reforms by Chinese regulators.
This relates to four key areas: making listed futures and derivative products available to facilitate hedging; addressing the short settlement cycle of A-shares to tackle the operational challenges some overseas investors face; aligning banking holidays between Stock Connect and onshore; and creating an omnibus account to allow easier trade facilitation.
As progress is made in finding solutions for these issues, portfolio exposure to China will grow. At the same time, ongoing liberalisation of the onshore investment landscape will give foreign investors increasing comfort and familiarity with the routes to accessing domestic stocks, supported by better market knowledge from enhanced research coverage by global intermediaries.
https://www.cnbc.com/2021/02/01/new-chart-shows-china-gdp-could-overtake-us-sooner-as-covid-took-its-toll.html
https://www.china-briefing.com/news/china-gdp-up-6-5-percent-q4-2020/
https://www.scmp.com/economy/china-economy/article/3119917/two-thirds-chinas-provinces-beat-national-gdp-growth-figure
https://www.scmp.com/economy/china-economy/article/3116996/china-gdp-imf-cuts-2021-growth-forecast-citing-us-tech
https://www.china-briefing.com/news/chinas-2021-forecast-policy-priorities-achieving-continuous-stable-and-sustainable-growth/
] https://www.china-briefing.com/news/what-to-expect-in-chinas-14th-five-year-plan-decoding-the-fifth-plenum-communique/
https://www.china-briefing.com/news/chinas-2021-forecast-policy-priorities-achieving-continuous-stable-and-sustainable-growth/
https://www.reuters.com/article/china-fund-subscription-idUSL4N2JT31G
Not for Retail distribution