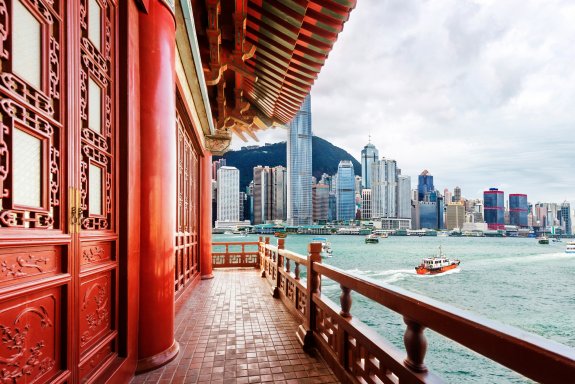 China and HK Equities: seeing beyond sentiment
03 November 2022 (5 min read)
---
Fighting against the tide of the markets is always risky, but there are certain times when it helps to block out the noise and understand what's really going on behind the scenes.
China is a case in point at the moment. There is no escaping realities such as a bleak short-term economic outlook, or uncertainty over Beijing's stance on COVID and the property market. However, the scale of selloffs has been a surprise since the Party Congress and before the most recent perk up.
Beating benchmarks on the downside
Let's take a closer look at the equity markets in Hong Kong and Mainland China.
Even though we are watching these move every day, it is startling to see how much negativity is being priced in.
Trailing price/earnings ratios (PEs) of the Hang Seng Index (HSI) and MSCI China Index (MXCN) have fallen to record lows – even worse than at the start of the pandemic in early 2020 (graph 1), the global financial crisis in 2007/2008, 9/11 attack in 2001 and the Asian financial crisis in 1997. For tech stocks, in particular, the recent peak-to-trough correction in the HSI Tech index is worse than we saw with the NASDAQ after the bursting of the dot-com bubble in the early 2000s (graph 2).
The MXCN, HSI and HSI Tech have all been subject to accelerated selling since the 20th National Congress of the Chinese Communist Party, with the most recent rebound of the market recouping only a fraction of the loss.
Graph 1
Graph 2
---
Clearer thinking needed
This negativity seems to reflect a few concerns about the outcome of the Party Congress, namely:
China President Xi Jinping's power consolidation means fewer political checks and balances going forward.
Beijing's emphasis on "security" may foreshadow reduced effort on developing the economy.
A lack of course correction on zero-COVID and property policies implies ongoing constraints on economic growth.
While these are rational concerns in their own right, they are not what we have derived from the key messages and outcomes of Party Congress for three reasons:
First, there should never have been an expectation of short-term policy changes at the Party Congress.
This twice-in-a-decade party gathering is intended as a high-level political event to communicate the Party's long-term development strategies. It is not a platform for short-term policy announcements. As a result, it wasn't the time for changes to the zero-COVID policy, or to property-related matters.
Furthermore, the fact there was no significant equity market rally before the event – which would have taken place if markets were indeed hoping for policy changes – appears inconsistent with the subsequent disappointment among investors.
Second, improving China's security standing shouldn't be viewed as at odds with its economic development.
On the contrary, maintaining social and political stability domestically, and improving China's global standing, can only stem from a position of continued economic strength.
This explains why the Party has vowed to keep economic development at the center of making China a modern and prosperous nation.
In short, security and economic development are not competing objectives, but complementary to one another.
Third, fears that political power consolidation will result in market-unfriendly policies are too much of a leap.
While the extension of President Xi's political reign and his allies moving into key leadership positions are a show of strength, policymaking is likely to remain consistent. Xi has shown over the past decade that he calls the shots, and nothing looks to have changed with the latest leadership reshuffle. The reckless selling in the market does not seem consistent with the minimal change in the decision-making dynamics at the top of China's political hierarchy.
Beyond personnel, Xi-led structural policy shifts, such as reducing inequality, cutting emissions, deflating property bubbles and curbing monopoly power of big tech firms, can be considered necessary steps to correct entrenched imbalances in the macro environment. The problem is that all these changes involve short-term pains for long-term gains. The economy is enduring many of these short-term pains currently, and some of them have been amplified by poor policy coordination and communication
One could argue that a more unified government, with a better top-down alignment of views, may in fact help to improve the coordination and execution of these policies going forward.
Taking advantage of market fear
Overall, we think "sentiment" and "technical", as opposed to tangible "fundamental", have also been the key drivers of the extreme volatility in the Chinese markets lately. It is difficult to say how long these influences will persistent and when asset prices will start to revert to fundamentals. What we can say is that record low valuations and extreme bearishness now provide investors of Chinese equities with a material downside protection while they await concrete policies from the Party's top echelon.