The thousand faces of the sharing economy (and how our society is changing)
---
Use instead of ownership, but also more personalized and sustainable consumption in the name of socialization: this is how the sharing economy has turned traditional business models upside down, leading companies such as Airbnb and Uber to massive success.
It is one of the most important global trends of the last decade, a symbol of "creative destruction" that has changed the face of the economy and society. The sharing economy (or collaborative economy) has turned traditional business models inside out, generating explosive turnover: from 15 billion in 2014 to an estimated 355 billion in 2025, forecast by Statista in a recent report.
But what exactly is the sharing economy? The official definition adopted by the European Union describes "a business model whose activities are facilitated by platforms that create a marketplace open to the temporary use of products or services, often provided by private individuals". There are two main players: the providers of products or services (private or professional) and the intermediaries who connect supply and demand using an online platform.
Digitization, the environment, rationalizing resources, and the pursuit for new consumer experiences drive the sharing economy
In fact, the sharing economy is a peer-to-peer economic model which, according to in-depth research carried out by PwC, is linked to four main drivers: digitization, the need to use resources more efficiently and wisely (starting, for example, with cars), environmental concerns, but above all a new sensitivity of consumers, who prefer use over ownership and seek new experiences in the name of personalization and socialization. In the sharing economy, users, via an online platform and upon request, share a product or service based on trust and with particular attention to both sustainability and social interaction.
However, the tremendous success of sharing economy giants such as Airbnb and Uber is also due to digital economies of scale, which allow them to expand very quickly by taking on local markets with fixed costs lower than those of more traditional competitors. This allowed Airbnb to successfully go public on Wall Street last December, in the midst of the pandemic, reaching a market capitalization of almost $120 billion (about ten times that of Renault for example), while Uber is just under $110 billion. And the two symbols of the sharing economy represent just the tip of the iceberg of an economic model that in Europe alone, according to some estimates provided by the Centre for Economic Policy Research, has about 700 online platforms and employs 400,000 individuals.
The main sectors
Let's go over the four main sectors of the sharing economy.
Mobility. In the diverse world of car sharing there are the ride sharing apps Uber, Lyft and their Chinese competitor Didi Chuxing, but also car pooling which is dominated by the French BlaBlaCar. This French giant has 80 million users all over the world willing to travel with strangers as long as they are sociable and like to chat. Not to mention the parking space rental niche (for example: the British JustPark) or that of on-demand car rentals (such as the American Zipcar, which has been acquired by Avis): a world of services in which car manufacturers are also launching services, starting with BMW and Daimler (with ShareNow).
Tourism. This realm is dominated by Airbnb's "monetised home sharing", but also includes similar services such as Couchsurfing, where accommodation is shared free of charge. One variant of this service is HomeExchange.com, where you exchange your home through an online platform. Then there are other services such as co-working spaces or those in which some hosts offer food rather than accommodations (lunches or dinners).
Entertainment. Online streaming: a true revolution for the entertainment industry, bolstered by pandemic-related lockdowns. This is a way of enjoying music or videos where content is not downloaded, but only shared online. Major players include Spotify, Deezer, Apple Music and on the video front YouTube, but also on-demand streaming service providers such as Netflix, Disney+, Apple TV and Amazon Prime Video.
Finance. This is another key sector in the sharing economy, especially on the fintech side given the growing success of crowdfunding as a means of financing, especially for start-ups (for example: Kickstarter). Then there is social lending or peer-to-peer lending: similar to a bank, but where the investment is brokered using a platform whose costs are much lower than those of a credit institution, making operations convenient both for creditors and debtors (two examples are Lending Club and Zopa). One curious variant is "crowdcreation", where users contribute their ideas to solve complex problems or to develop a product (such as the InnoCentive platform).
There are also other niches in which the "collaborative economy" has taken root, from food to fashion, clothing rental to energy and platforms for connecting work supply and demand.
Boom of the sharing economy
Estimates on annual growth by sector (in %, 2013-2025)
Image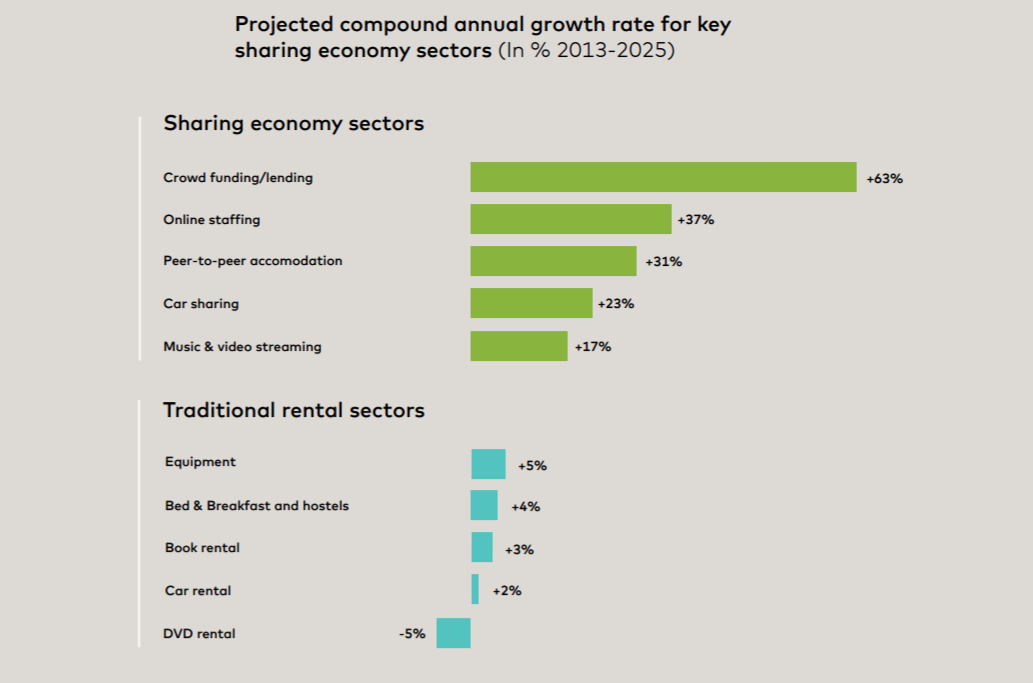 Source: MasterCard Research and Study Office
However, one side of the sharing economy world has massive regulatory problems, because in some cases it represents an economic and fiscal "grey zone", but also a form of unfair competition for traditional companies. Let's take the example of Uber. For years it found itself in the crosshairs of taxi drivers who, to be able to provide a similar service, have to spend significant sums of money on their licenses. Or private individuals who "sell" meals at their homes using online platforms, at prices that are obviously lower than those offered by restaurants because they have no location rental costs, no licenses or staff to pay. More generally, the concern lies in the fact that some sectors of the sharing economy risk replacing traditional, safe jobs with part-time, underpaid and precarious jobs, as well as jobs that are sometimes irregular from a fiscal point of view. This is the dark side of the sharing economy that shouldn't be swept under the rug.
From an industrial economy to a collaborative one
Image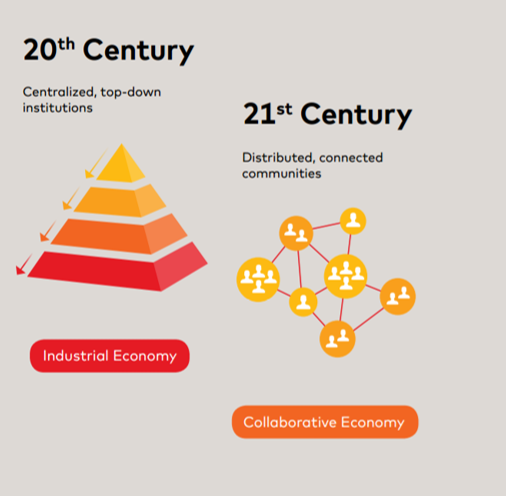 Source: MasterCard Research and Study Office