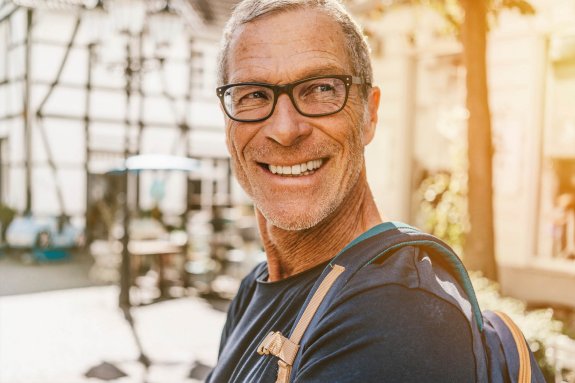 From home automation to self-driving cars: the 3 faces of senior-friendly technology
---
Innovation is increasingly adapting to the older generation. And not just in the health sector: here's how technology is set to change the face of home life and travel for "silver surfers"
The keyword is simplicity: when it comes to technology, seniors are primarily looking for services that are easy to use, efficient, and tailored to their requirements. These were the findings of a study by the Osservatorio Senior ("Silver Economy Technology and Ageing"), which analysed the relationship between the elderly and innovation in different sectors.
It should be noted from the outset that internet use is increasingly widespread among seniors: in 2019 in Italy, 61% of men aged 55 to 74 regularly used the internet. With regard to browsing, 56% of Italians aged between 55 and 64 use a smartphone, which is higher than in Greece (45%), Bulgaria (40%) and Poland (48%); the percentage increases to 69% for the rest of Europe, reaching 80% in Germany, 86% in Great Britain and even 94% in Denmark. When browsing the internet, seniors first seek out information on health: a recent analysis by the Centro Studi e Ricerche di Itinerari Previdenziali revealed that the percentage of internet users aged between 55 and 74 seeking health information increased from 10% in 2010 to 27% in 2019.
Image
Source: Developed by Centro Studi e Ricerche Itinerari Previdenziali based on Eurostat data
However, the internet is just the first step. Seniors will soon have to deal with four new technological frontiers. Voice assistance currently helps users to turn lights on or lift window blinds but, in the future, it will become an indispensable aid for over-65s, performing more complex activities such as shopping or booking theatre tickets. There are also sensors regarding the Internet of Things and Internet of Medical Things (IoT and IoMT) which, thanks to 5G implementation, will be capable of collecting and analysing a huge amount of data from all types of household appliances, smartwatches, clothing, and even our bodies. Completing the range of technological innovations on the one hand are machine learning and augmented intelligence systems that will provide seniors with an increasingly personalised offering, and on the other hand, integrated services for treatment, well-being, assistance and monitoring (including companion robots).
Image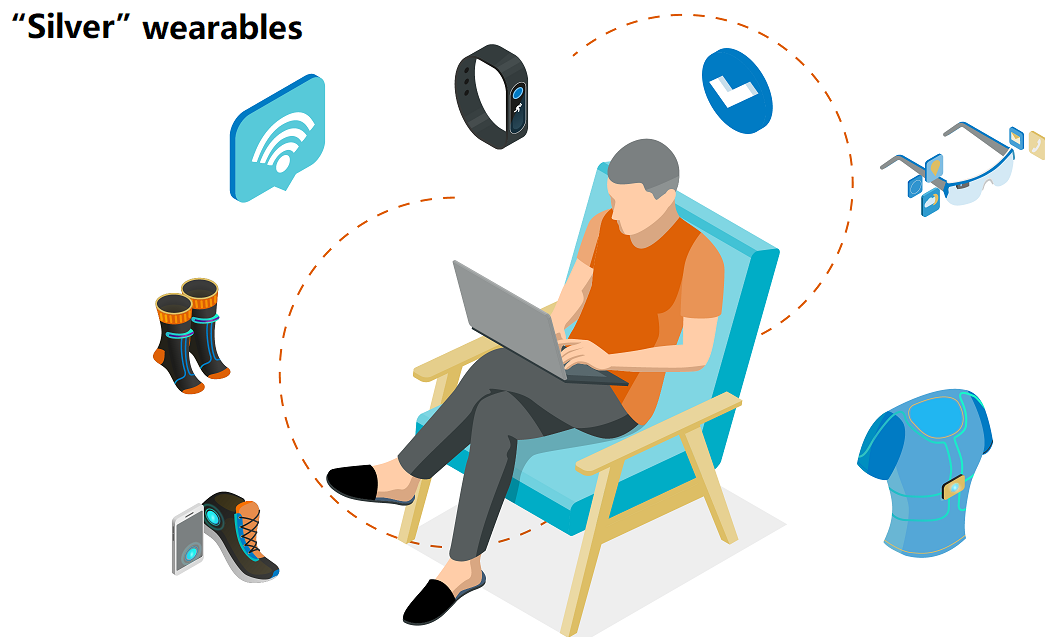 Source: Silver Economy Technology and Ageing Report
In addition to the health sector, which we have already mentioned, let's now look at three other macro-sectors in which technology will change the lives of over-65s in the coming years.
Home automation

The main investment item among seniors is the home, particularly in Italy, where the home accounts for as much as 54.3% of expenditure in the case of seniors without children. The option to live independently in a familiar, much-loved place is identified by seniors as one of the most important factors in their well-being, second only to health. And it is technological innovation that will make the home environment more pleasant, safe, efficient and bright.

Home automation systems connected to a smartphone can, for example, remotely control the functional parameters of the house, monitoring temperature, lighting, sprinklers and security systems, while small domestic robots keep it clean. Food will be delivered directly to the house, with smart household appliances capable of indicating when any products that are usually kept in the fridge need replacing. The television, a device loved especially by the older generation, will undergo a change, not only connecting to the internet, but also replacing remote controls with voice controls and suggesting completely personalised viewing options thanks to artificial intelligence algorithms. All of these features are designed for simplicity, with voice control, facial recognition and fingerprint scanning replacing thousands of difficult-to-remember passwords.
 
Transport

Another symbol of freedom and independence treasured by the older generation is the car, which is also changing: the integration between new generation sensors, artificial intelligence and satellite navigation is steering us towards self-driving cars, autonomous vehicles that will support the mobility of those with physical limitations.

Navigation systems, that help you find locations when travelling on foot, will become more senior-friendly: voice prompts are now available with Google Maps, but you still need to look at your smartphone screen. In the future however, we will be guided by simple "vibrations" transmitted by two sensors, one located on our right and one on our left, which will allow us to change direction without even having to check our phones. This will help older people feel safer and more independent, even in areas that they are less familiar with or in different cities.
 
Travel

Lastly, let's look at another major item of expenditure among seniors: travel. There are increasingly integrated service offerings from major tourist platforms such as Booking or Expedia, real "assisted chat" services which, once a hotel is selected, provide recommendations regarding restaurants, flights, car hire and interesting places to visit. However, there are also virtual reality or augmented reality devices that are capable of building excitement for a potential trip in advance or, for example, "telling the story" of the hidden details behind works of art. They may even simulate a three-dimensional stroll around the inside of a major masterpiece, such as a fresco or an altarpiece