A thematic touch: Transforming portfolios with sustainable technology
22 July 2021 (5 min read)
---
Technology-driven innovation is one of the most viable ways to tackle the world's environmental and societal challenges, while at the same time delivering a positive impact on investment portfolios.
Indeed, sustainable technology applies across multiple industries and markets. From health, transport and smart cities to data security, resource optimisation and clean energy, it can solve key global needs stemming from ageing populations, dwindling resources, poverty, inequality and climate change.
This is reflected in the World Economic Forum's 'Technology Pioneers of 2021'. Among these 100 early- to growth-stage companies from around the world are pacesetters in areas such as quantum-based cybersecurity, digitisation of water rights and use of satellite imaging to measure carbon captured in forests1 .
For investors, exposure to these and other rapidly-developing sustainable technology sectors is becoming increasingly popular – and sought after – amid efforts to generate reliable long-term returns.
Taking a thematic tilt
This reflects the general mainstreaming of thematic investing – a top-down approach to enable investors to capitalise on identified, longer-term macro-economic, geopolitical and technological trends.
Demand is growing. And new research conducted by Broadridge2 , a global fintech leader, reinforces the widespread shift in focus towards themes in driving investment decisions.
For example, assets in these types of funds had already grown at an annual rate of 37% since 2018; Covid-19 accelerated this to 77% in 2020. In all, since 2017 thematic portfolios have represented almost 40% of all equity fund net sales globally3 .
The rationale of thematic investing is to future-proof portfolios by giving investors better visibility on the trajectories of those companies best positioned for change – rather than focus on short-term macro noise or investment flows.
Eyeing sustainability and tech in Asia
This is especially notable in Asia Pacific. While demand across the region is volatile and changing, the Broadridge research shows emerging tech as the largest macro theme in terms of flows, followed by sustainability.
And in terms of micro themes, the highest cumulative flows go to funds investing in disruptive and 'other' tech – which includes the opportunity arising from themes predominately clustered among security / cyber security, fintech, semiconductor, connectivity and digitalisation.
Image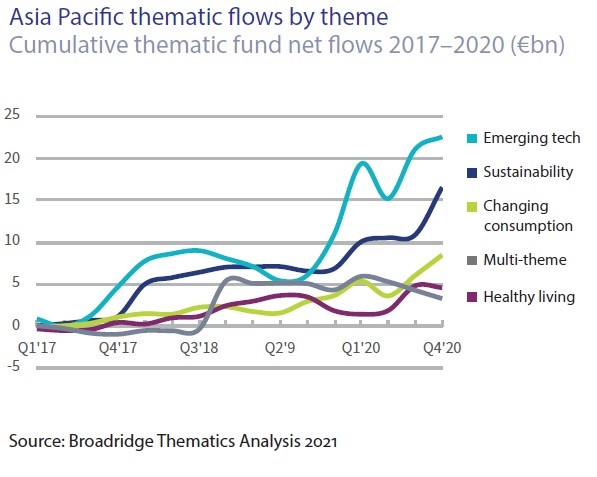 Appetite for these has clearly accelerated since Covid-19 as the role of technology and influence of digitalisation have exerted a tight grip on business practices as well as consumer behaviour.
Deloitte Insights, for instance, has forecast that by 2030 electric vehicle (EV) sales will account for 48% of domestic new car sales in China4 . And this green tech evolution inevitably fuels an ecosystem that also includes batteries, parts and semiconductors.
The focus on sustainable energy, meanwhile, is particularly encouraging, given that the Asia Pacific region is responsible for half of the world's energy consumption and half of global greenhouse gas emissions5 .
Increasing fund flows into renewable forms of energy are in urgent need. Not only will they support multiple development objectives in line with government commitments in China, Japan and South Korea towards lower carbon emissions, cleaner air and improved public health outcomes, the required investments in renewables can also create almost three times as many jobs as investments in fossil energy sources.
A new focus: from traditional sectors to future trends
The Broadridge research suggests that technology will be the dominant structural megatrend that will define economies and societies across the region as a whole over the next 10 years.
It reflects the impact of the pandemic in spurring change in investment habits and patterns – which, in turn, has lured investors to thematic fund products that leverage this evolution.
Image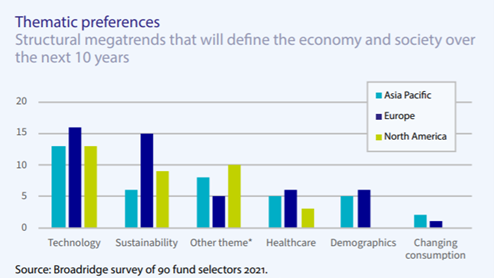 This has shattered previous criticism sometimes levelled against thematic funds – that they are only ever capable of raising assets in a bull market. Instead, the research, among mounting global evidence, shows that these funds are capable of presenting a strong case to investors and remain resilient in even the most distressed market conditions, including the pandemic in 2020.
However, to position portfolios in expectation of current and future trends in sustainable technology, investors need to apply clear criteria in segmenting the theme.
There is an important difference, for example, between funds that identify opportunities by sector, such as technology, and those that identify them by the specific theme, such as developments in robotics and artificial intelligence.
For example, only the latter can leverage the growing potential of smart cities – in which housing, utilities, services and all infrastructure are connected digitally, using artificial intelligence to optimise the flow of goods and people. Indeed, the global smart cities market is projected to reach US$2.5 trillion by 20266 .
This is yet more evidence of how sustainable tech offers new investment opportunities by differentiating thematic approaches from traditional sector-focused ones.
aHR0cHM6Ly93d3cud2Vmb3J1bS5vcmcvYWdlbmRhLzIwMjEvMDYvdGVjaG5vbG9neS1waW9uZWVycy0yMDIxLXdvcmxkLWVjb25vbWljLWZvcnVtLw==
UmVzZWFyY2ggd2FzIGJhc2VkIG9uIGludGVydmlld3Mgd2l0aCA5MCBmdW5kIHNlbGVjdG9ycyBpbiBFdXJvcGUsIEFzaWEgUGFjaWZpYyBhbmQgTm9ydGggQW1lcmljYSBkdXJpbmcgUTEgMjAyMSwgZXhwbG9yaW5nIHRoZWlyIHVzYWdlIG9mIGFuZCB2aWV3cyBvbiB0aGVtYXRpYyBmdW5kcyBvbiBhIHF1YWxpdGF0aXZlIGJhc2lz
U291cmNlOiBBWEEgSU0gYW5kIEJyb2FkcmlkZ2UgcmVzZWFyY2gsIOKAnFRoZW1hdGljIGludmVzdGluZyBzZXQgdG8gdHJhbnNmb3JtIGFzc2V0IG1hbmFnZW1lbnQ/4oCd
aHR0cHM6Ly93d3cyLmRlbG9pdHRlLmNvbS91cy9lbi9pbnNpZ2h0cy9mb2N1cy9mdXR1cmUtb2YtbW9iaWxpdHkvZWxlY3RyaWMtdmVoaWNsZS10cmVuZHMtMjAzMC5odG1s
aHR0cHM6Ly93d3cudW5lc2NhcC5vcmcvYmxvZy9zdXN0YWluYWJsZS1lbmVyZ3ktZnV0dXJlLWFzaWEtcGFjaWZpYy1yZWdpb25zLWpvdXJuZXktMjAzMA==
aHR0cHM6Ly9uei5maW5hbmNlLnlhaG9vLmNvbS9uZXdzL2dsb2JhbC1zbWFydC1jaXRpZXMtbWFya2V0LXJlYWNoLTA3NTkwMDc4Ny5odG1s