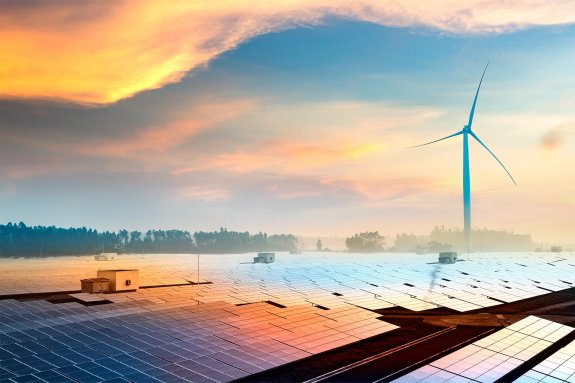 ESG essentials: clearing the mist of sustainable investing
31 March 2021 (5 min read)
---
The surge in investor appetite for sustainable themes suggests a more mainstream and longer-term role for environmental, social and governance (ESG) factors in Asian investors' portfolios.
Fuelling this trend is the fact that ESG investing has shifted from being about mitigating risk to seizing potential opportunities.
Numerous research reports and surveys support this. Among them, a recent MSCI 2021 Global Institutional Investor survey found nearly 80% of investors in Asia Pacific had increased their ESG investments "significantly" or "moderately" in response to the pandemic. Further, 57% said they expect either to have "completely" or "to a large extent" incorporated ESG issues into their analysis and decision-making by the end of this year1 .
Putting this in practice, however, is easier said than done. Multiple challenges remain for investors when they try to overlay an ESG lens, ranging from how they practically integrate ESG factors into their portfolios, to how their approach can be consistent and repeatable to align with their sustainability goals. At the same time, they need to navigate the non-standardized definitions and data to assess ESG investments, plus they must find effective ways to measure performance of ESG assets
Overcoming these hurdles relies on a clear path for investors to follow when assessing ESG integrated strategies.
Four steps for retail investors to evaluate ESG strategies
A good starting point for retail investors is to apply and adapt a broad framework to their investment portfolio. This consists, in our view, of four key components:
Clear goals – Investors must be clear about their own objectives with sustainable investing, in terms of what they are looking to achieve by incorporating ESG factors in their portfolio, and how that fits into their overall investment strategy. Being able to define what ESG means to them will enable them to assess and select an investment strategy that they believe will enable them to achieve their goals.
Active management – Investors should ensure the investment strategy is being actively reviewed and managed if they expect it to successfully integrate ESG factors into their overall portfolio or individual allocation decision. Given the varying interpretations of what ESG integration means, along with different investor preferences, inconsistent data and a wide range of approaches to ESG from various investment managers, it is unrealistic for investors to expect a passive framework to effectively enable ESG integration.
Process and people – For investors looking to implement their specific ESG view in a way that produces the investment outcomes they want, they need to ensure there is a clear, transparent and consistent framework that gets applied to all types of portfolio. This might offer different levels of intensity, which investors can select based on their preference. This might, for example, simply involve applying exclusions to certain sectors or companies and exercising voting rights and targeted engagements. Or, it might be more complicated by looking to generate a desired impact, such as mitigating climate change or improving access to education and health services.
Transparency and reporting – It is equally important for investors to be clear about how they can evaluate the effectiveness of the ESG strategy. This demands the investment and its manager to be able to illustrate the impact of ESG integration through proper and clear measurement and reporting. This will also give investors the confidence that they are able to avoid 'greenwashing'.
Investors who have already applied these guidelines to get exposure to companies with strong ESG practices can see the benefits first-hand.
For example, companies with the highest ESG ratings proved more resilient amid the market crash following COVID-19.
Notably, based on our market analysis in Q1 2020, stocks we consider to be 'ESG Leaders' outperformed those defined as 'ESG Laggards' by 16.8%. In fixed income, meanwhile, corporate bonds in the ESG Leaders category outperformed those in ESG Laggards by 5.2%. For both asset classes, the ESG Leaders' basket also outperformed its parent benchmark index.
Image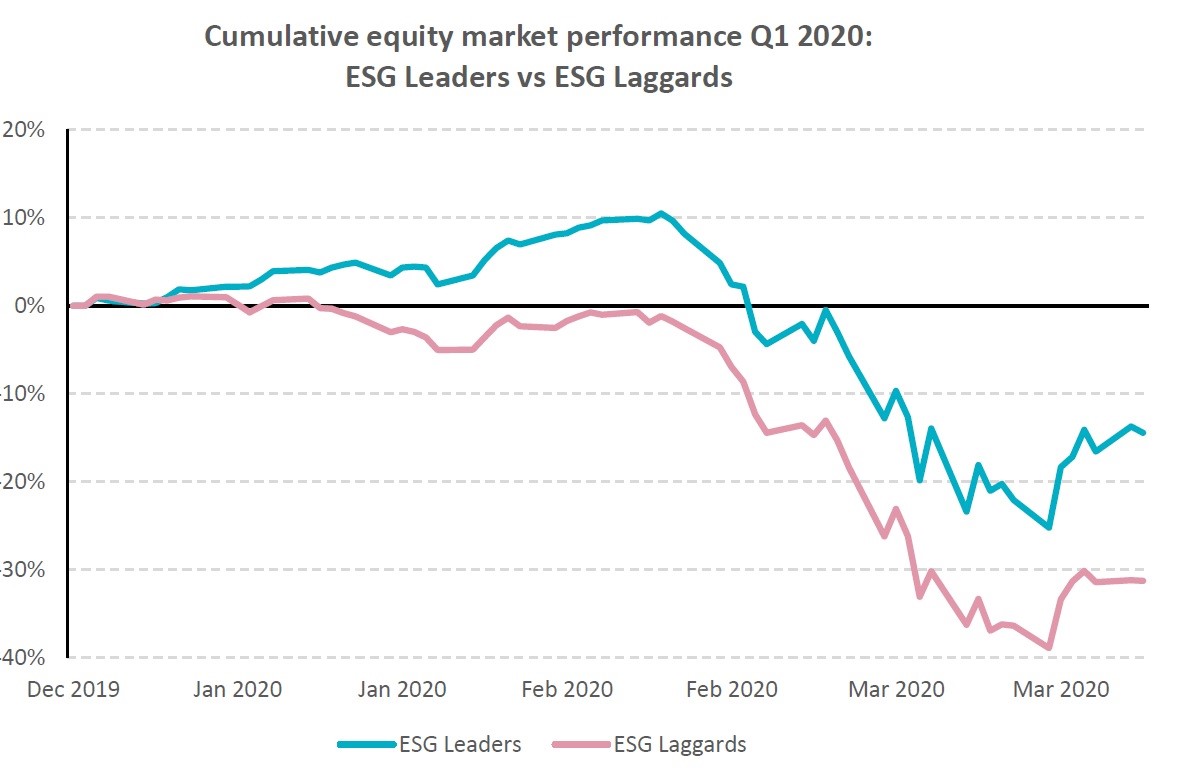 Source: AXA IM Research, as of March 31 2020.
Image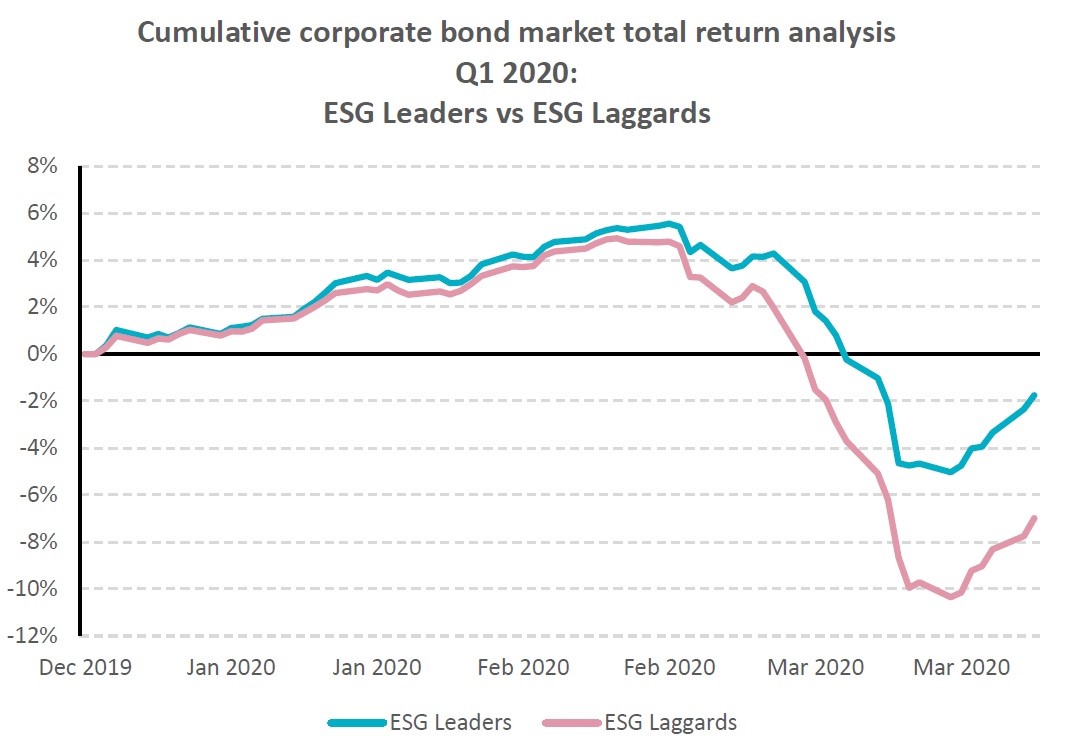 Source: AXA IM Research, as of March 31 2020.
Emerging tilts to ESG here to stay
As ESG increasingly becomes the norm in investor portfolios, certain trends will likely shape the role of sustainability.
From green bonds to impact and dedicated carbon reduction investment strategies, investors and companies alike want strategies that deliver the resilience to navigate the type of uncertain market conditions seen during COVID-19, as well as the range of social infrastructure needs that the pandemic exposed and the perils of climate change.
In particular, a Net Zero Investment in Asia survey in late 2020 by the Asia Investor Group on Climate Change found an upwards trend in the use of decarbonisation strategies (over 40% of respondents) and portfolio tilting (more than 35%)2 . This suggests the region's investors are more actively managing portfolios to pivot away from assets facing climate risk while capitalising on net zero opportunities. At the same time, 70% of respondents said they are eyeing the adoption of portfolio-wide decarbonisation goals for their portfolios.
This surging demand is in line with our long-term conviction about the necessity of a low-carbon future, to which some emerging common routes include renewable energy, electrification and resource efficiency.
In fact, to achieve the kind of net-zero carbon ambitions highlighted by the significant commitments in 2020 by the US, China, the EU, Japan and the UK, investors can prepare for far-reaching changes to how economies consume and produce. Even just to limit temperature rises to 1.5-degrees Celsius, for example, will cost around US$2.4 trillion per year from now until 2035, according to the United Nations (UN) Intergovernmental Panel on Climate Change3 .
Ten ways to ensure ESG quality control

With investors increasingly focused on sustainability themes, investment managers need to apply proprietary frameworks to all strategies in an effort to close any ESG-related gaps. Here, we propose 10 metrics to help investors assess ESG integration in practice:
Does the manager have a well-defined, firm-wide ESG policy?
What kind of ESG resources are being deployed by the firm? (dedicated personnel, a centralized vs decentralized approach, or a combination of both, etc)
What ESG data and inputs is the manager using, and what is the selection and due diligence process for data metrics and information
How is new data integrated into the existing strategy?
How is the manager forming ESG scores / ratings?
How is the manager applying exclusions (if any) and measuring the impact? (sector specific, ESG laggards, etc)
What is the overall ESG score for the portfolio as well as versus the reference benchmark and detailed ESG information at the holding level?
What are the voting statistics and what does the stewardship report say?
What is the relative portfolio performance along specific ESG metrics, such as carbon footprint for portfolios focused on reducing the effects of climate change?
To what extent is there industry collaboration via involvement with relevant industry associations, as well as engagement with companies, policy makers and regulators?
aHR0cHM6Ly93d3cubXNjaS5jb20vZG9jdW1lbnRzLzEyOTYxMDIvMjI5MTAxNjMvTVNDSS1JbnZlc3RtZW50LUluc2lnaHRzLTIwMjEtUmVwb3J0LnBkZg==
aHR0cHM6Ly93d3cuYWlnY2MubmV0L25ldy1pbmR1c3RyeS1zdXJ2ZXktZmluZHMtbGFyZ2UtYXBwZXRpdGUtZm9yLW5ldC16ZXJvLWludmVzdG1lbnQtYWNyb3NzLWFzaWEv
aHR0cHM6Ly93d3cuYmxvb21iZXJnLmNvbS9uZXdzL2FydGljbGVzLzIwMTgtMTAtMDgvc2NpZW50aXN0cy1jYWxsLWZvci0yLTQtdHJpbGxpb24tc2hpZnQtZnJvbS1jb2FsLXRvLXJlbmV3YWJsZXM=